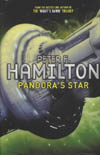 It is AD 2380 and humanity has colonized over six hundred planets, all interlinked by wormholes. With Earth at its centre, the Intersolar Commonwealth has grown into a quiet, wealthy society, where rejuvenation allows its citizens to live for centuries, by both rejuvenating their bodies, and transferring their memories into clones.
When astronomer Dudley Bose observes a star over a thousand light years away vanish, imprisoned inside a force field of immense size, the Commonwealth is anxious to discover what actually happened. As conventional wormholes can't reach that far, they must build the first faster-than-light starship. Captained by Wilson Kime, an ex-NASA astronaut a little too eager to relive his old glory days, the Second Chance sets off on its historic voyage of discovery.
But someone or something out there must have had a very good reason for sealing off an entire star system. And if the Second Chance does manage to find a way in, what might then be let out?
Ad blocker interference detected!
Wikia is a free-to-use site that makes money from advertising. We have a modified experience for viewers using ad blockers

Wikia is not accessible if you've made further modifications. Remove the custom ad blocker rule(s) and the page will load as expected.